ROV - AFTER USE CARE INSTRUCTIONS
After using your ROV it is imperative to clean it immediately after use. This is especially true if the ROV has been in saltwater or in a chlorinated pool as the salt and chlorine can cause exposed metal to stain and rust.
Tip: Avoid leaving the headlights on when the ROV is not submerged; this can damage the light bulbs.

Take the ROV from the body of water you have been operating in and place it into a container of fresh and clean water and run the motors for at least 2-5 minutes while submerged in the fresh water, run maintenance mode if available.

Remove the ROV from the fresh water and allow ROV to drain completely. While the ROV is dripping, turn the motors on for 30 seconds to flush any remaining water from the motors themselves.

Repeat Step 2.

You can let your ROV to hang and dry for no more than an hour or two before finishing the cleaning process. It is important to get the ROV cleaned and lubricated before storing it.

Take the noses off the motors and remove any debris such as seaweed. While the caps are off, remove the screws on the motors and give a short burst of food grade silicone spray (https://amzn.to/37mejJn)l to any openings on the motors and along any rotating seam.

Reassemble the ROV and give it a quick 5 -10 second run.

If the ROV will be stored for a long period of time, it is a good idea to leave it hanging to dry for approximately 24 hours in a warm, dry area before stowing it away in a sealed case.

Make sure the interior of the case is dry before long term storage of your drone.

Routinely perform the following services (also before any long terms storage):


Remove propellers and spray motors with food grade silicone spray (https://amzn.to/37mejJn), let dry or use silicone oil (https://amzn.to/2ILIaBd)

Lubricate any connection points that get wet with dielectric grease (https://amzn.to/37hnOcL)

Chasing Specific Instrucitons:

After using the ROV, check whether there are any seagrass, fishing nets, or other foreign matter stuck on the propellers. If so, remove them to prevent damaging the motor.

Please connect the ROV and RC, then soak the ROV in freshwater for an hour and unlock the motors to let them rotate for 10 minutes.
Remove the propeller and spray WD40 into the shaft through the three screw holes.
You may then use a clean cloth to wipe the ROV clean and store it after it has dried thoroughly.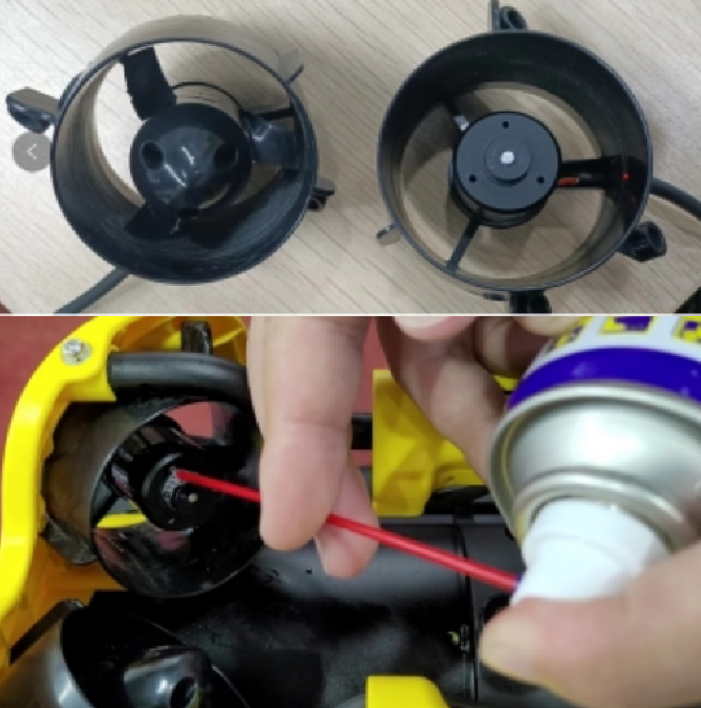 Related Articles

ROV Insurance

If you are looking for ROV Insurance, contact this company below. Keep in Mind they are only able to offer insurance for business aplications and cannot offer insurance for personal use. Jeremy Paulus Fathom Insurance Agency 1455 NW Leary Way Suite ...

DJI Care Activation - Video

If it has been more than 24 hours since you activated your drone and you did not activate your DJI Care yet, you will need to create a video for DJI. Please follow the link below to review the video and process DJI requires you to follow. ...

DJI Care Enterprise Protection - What is it?

DJI Care Enterprise is an after-sales service plan specially designed for DJI Enterprise products, allowing you to fly with peace of mind without worrying about accidental damage. DJI Care Enterprise offers three packages that provide tailor-made and ...

DJI Care Enterprise (Basic & Plus)

Comprehensive Protection for Your Fleet DJI Care Enterprise was specially created to provide comprehensive protection for your DJI Enterprise products. Offering coverage options with unlimited replacements or free repair services for accidental ...

QySea Fifish ROV Machine Checker

How to use the Machine Checker on the Fifish Series. Click on help in the lower right. Click on Machine Checker Click on the start for each of the 6 options. If you have any errors then there is a physical problem internally.