Matrice 600 FPV Installation
The camera mount and camera screw to the mount. The mount then snaps in place on the rail system from the Matrice 600 (pro).

The included wire connects to the camera and is fed through the underbody of Matrice 600 and then connects to teh A3 Light Bridge as noted in teh photo below.
The camera connects to the A3 Light Bridge behind battery 6 and you need to feed the cable to this plug. You may need to be creative on how you get your fingers or a long set of forceps or needle nose pliers to plug it in.

The AV settings in the remote need to be as outlined in the photo below.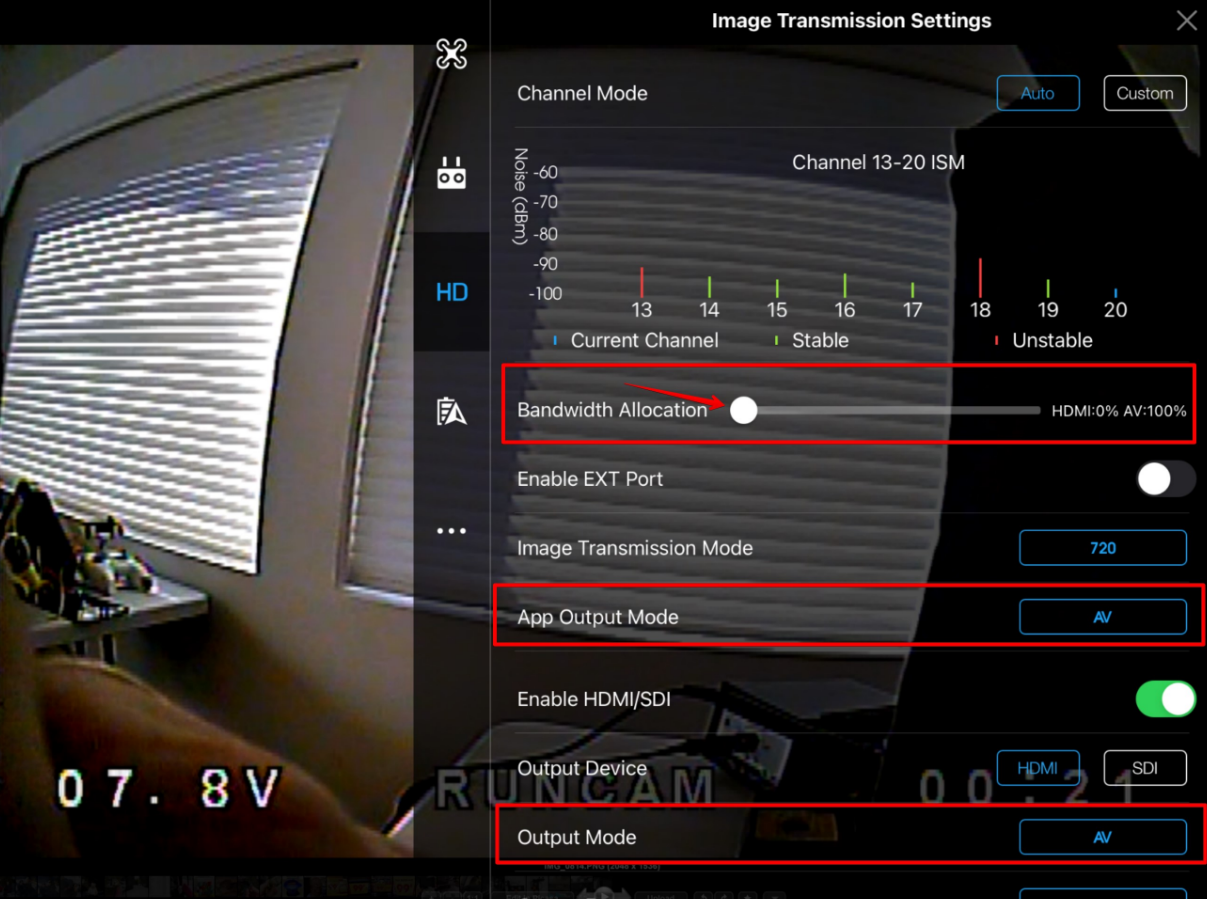 Related Articles

What cameras & sensors work with the Matrice 200 Series?

The Matrice Series have a built in FPV camera. Additionally you can add a single camera or sensor to the Matrice 200. The Matrice 210 and the Matrice 210 RTK can each mount one or two cameras or sensors. There are a number of 3rd party sensors that ...

Laser Methane Sensor for Matrice 600

Thank you for renting from Blue Skies Drone Rental! Please review this guide for getting your LMC up in the air quickly. 1. We verify each unit is ready for flight before we ship out the units, but we want you to verify no damage has occurred ...

Operating the Matrice 210 Payload Release System

Specs are located here: https://www.blueskiesdroneshop.com/products/payload-release-drop-kit-for-dji-m210-series Operating the M210 Payload Release Drop Kit is done through our Control Box ST1 and the auxiliary power port on the back of the M210. ​ ...

What DJI cameras work with the Matrice 600 and Matrice 600 Pro?

There are a number of 3rd party sensors that also work with the Matrice 600 Series DJI Produced Sensors for Matrice 600 Series DJI ZENMUSE Z3 - Uses the X3 Gimbal Mounting Plate. 7 times zoom. DJI ZENMUSE X5 - Uses the X3 Gimbal Mounting Plate. ...

Programming the Payload Release System for Matrice 600 with the Channel Expansion kit

Once the hardware is installed on the Matrice 600 and wired to a port you will need to program the Channel Expansion and Matrice 600 Pro. Follow the Instructions to install the Channel Expansion module on the remote controller. This video will help ...